ATEX GENERATOR SET ROAD TOW ZONE 2 DIESEL GENERATOR – 10KVA

ZONE 2 HAZARDOUS AREA COMPLIANT
PRODUCES 10KVA, 110 VAC, 1 PHASE, 50HZ
OTHER POWER OUTPUTS AVAILABLE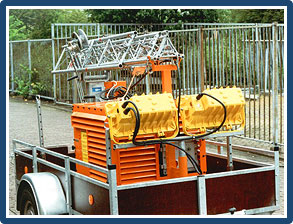 Operation/Service
Zone 2 Diesel driven generator set mounted in a DNV 2.7-1 certified frame and on a fast road tow trailer producing 10kVA @ 0.8pf, 110VAC, 1 phase, 50Hz output.
For use in oil, gas and petrochemical industry.
Ideal for mobile lighting.
Components
Zone 2 diesel engine rated at 15BHP @ 1500 RPM fitted with an AMPCO Zone 2 generator with electronic control and safety shutdown system, consisting of:
Engine over-speed
Coolant temperature trip
Oil pressure trip
Gas detection trip
Exhaust temperature trip
Hydraulic engine start
Electrical isolator switch
Control Panels
The engine control panel accommodates all engine and generator controls and indicators. This includes:
MCCB
Over/under voltage protection
Over/under frequency protection
Meters – voltage, Hz, amps
Start and Stop Switch
Emergency Stop
2 x receptacles
Fuel Tank
10L fuel tank capacity
During periods of 100% operation this fuel tank capacity allows for a run time of 16 hours.
Safety/Environmental
Bunding for containment of fluids should there be any leaks or spills
Drain Points
Guarding supplied around all moving parts
Standards/Certification
IECEx
2014/34/EU ATEX Equipment Directive
2006/42/EC Machinery Directive
DNV 2.7-1 Container
IEE Wiring Regulations
2000/14/EC Noise emission in the environment by equipment for use outdoors as amended by 2005/88/EC
Mass
Maximum Gross: 1,900kg Actual Weight: 1,550kg Frame Tare Weight: 350kg
Dimensions (LxWxH)
LENGTH: 4,000mm
WIDTH: 2,500mm
HEIGHT: 2,200mm
Design/ambient Temperature
Minimum: -20˚C
Maximum: +45˚C